Hi everyone!
So I had an idea a while back. I ran it by Celi and she thought it was awesome <<;
I was looking at Celi's Chaotic Dragons Floorplan the other day and I thought about how we're always talking about what it would be like to live under the same roof.
Soooooo...why not do a roleplay on it? :3
We can use the floorplan as a guideline as to how the inside of the infamous Chaotic Dragons Guild Castle would look like (feel free to add rooms or change things up if you don't like your current roommate

)
I would really love it if you all took part in this. The more people the funnier the roleplay will be. I can only imagine how its going to be xD
Since this isn't going to be written by one person, I'll give you guys a chance to decide what you want your respective characters to look like before we start. You can even change your name if you wish. Its not mandatory, but you can also include a picture to help the vision come alive.
Considering the way things have been and how DoMO isn't used by many of us anymore, this roleplay is another way to keep us all connected.
On a sidenote, please remember that since this is indeed a roleplay, anyone participating can control everyone in the story and thus anything is possible *thinks of the word "Chaotic" and prays*
In other words, yes Lucx can create himself a hunky Man-Mjrn or Man-Liah (Man-Lirn? xD) and Celi can make Zi wear a cabana boy costume if she wants >>;
Note:
Anyone can participate in the roleplay but if your forum name differs from that of DoMO, tell us who you are or you won't be allowed to participate. There's also no set time limit to joining the roleplay (people can join way after this thing has started if they choose) but one time posts aren't allowed. We don't want unwanted guests coming in and ruining our fun <<
We'll be starting the roleplay next Friday, August 13 (Yes Friday the 13th. What better day to have a Chaotic Dragon roleplay? xD)
The set guidelines we have for now aside from the floorplan are that we run a Bounty Hunter Business (real name to be discussed) in which we have Junior and Senior members. Most of us are also going to be attending school. Depending on age, who goes to school together will vary.
I hope everyone has fun with this, it'll certainly be something to remember no matter how long or short this lasts xD
Last edited by Liah on Wed Aug 04, 2010 3:58 pm; edited 5 times in total

Liah

Smash





Posts

: 421


Join date

: 2009-01-29


Age

: 30


Location

: New York :D



This is the Celi's Floorplan that we'll be using, as I said feel free to add rooms or change where you'll be bunking


Liah

Smash





Posts

: 421


Join date

: 2009-01-29


Age

: 30


Location

: New York :D



Name:
Liah
Occupation:
Student and a Senior Member of the Bounty Hunter business we're currently running (name TBD since Bounty Hunter business is so unoriginal <<; ) Celi's roommate
Weapon of choice:
Over-sized black and purple leather boxing gloves. Specializes in hand to hand combat and is very agile which in turn is often used as bait >>;
Family:
Aunt to Zion and Celica, older sister to Lucx. Binks and Kooh's aunt and older sister by adoption...Incest ftw <<; (will add more depending who joins)
Description:
Liah is softhearted and funny but knows when to be serious. Gifted with taking 99% of things people say as a form of innuendo (in which Zion inherited) she tends to make lots of jokes and even lighten the mood at worst of times. Aside from her love for her pet bear Snuffy, she's also a plushie fanatic making it an even better reason she and Celi roomed together.
She doesn't like being a leader but can and will perform the job whenever necessary. Granted with the patience of a Saint, Liah is usually one of the most forgiving people around but once that patience is lost, beware to those responsible. Always protective of those close to her, she's capable of being an enemy to those that hurt her family.
Last edited by Liah on Wed Aug 11, 2010 11:29 am; edited 3 times in total

Liah

Smash





Posts

: 421


Join date

: 2009-01-29


Age

: 30


Location

: New York :D



Hell yes! Time to control or be controlled! >=D. Get ready for some insanity, cause I'M joining!
Name:
Zion
Occupation:
Student, Professional Prankster, Tactical Equipment Inventor, Senior Member of TBD (A bit young compared to all you higher ups, but still I'm using my rank from here << >>)
Weapon of choice:
Two handguns =P (Also able to use Tae-Kwon-Do for hand to hand combat)
Family:
The details are sketchy...but the end result was that he's Liah's nephew, and Celica's younger brother (he was adopted)
Description:
Zion is a big time jokester, always looking for opportunities to cause some laughter. Despite this, he's actually very conscious of other people's emotions, and speaks with a mix of humor, optimism, and compassion. However, when it's time to be serious, he's the one who takes a look at things from a different points of view, sometimes siding against the majority. His heavy belief in creating original ideas (and sometimes, pranks), has given him a strong sense of creativity, intelligence, and open mindedness. However, he seems to suffer from a "Badass" complex.
Last edited by Zion on Fri Aug 06, 2010 10:04 pm; edited 5 times in total

Zion

Elder




Posts

: 239


Join date

: 2009-01-29


Age

: 25


Location

: California, USA



Name: Binks
Occupation: Book keeper, Song writer, Senior Member of TBD (Communications Expert)
Weapon of choice: A Silver Sitar and his three pets. (Sparta - Ruby, Dream Twister -Sapphire and Azamashi - Lily)
Description: Binks is kindhearted, yet with a protective streak a mile long. His mind tends to think completely outside of the box, often siding with Zion's unusual ideas... If they are completely stupid or dangerous to everyone else. Binks has no patience for people who won't listen to someone else, usually sending one of his pets to remove them from his presence.

Usually either inside the castle or his library sorting through the extensive paperwork for both the guild and TBD, He's called on to direct missions and inform others of important information.

When he's onsite for a mission, Binks tends to keep a supportive role to the others. But, if necessary, he'll bash people in the face with his sitar with glee.

(Cuts self off from writing everything)
_________________
Woot! This will be fun! >:3 *eyes Zion*
Name:
Celica (aka Celi)
Occupation:
Student and Senior Member, Head Nurse in the CD Infirmary, "Lumber Room" Owner >>;;
Weapon of Choice:
Platinum Magic Wand (top is shaped into a pair of angel wings and a heart in the middle, visual reference to come soon)
She uses the wand like a baton at times, and can extend it to as long as 20 ft to smack down enemies, only when melee combat is necessary, but due to the density of the wand, it does not hit too hard on tougher enemies.
Family:
Zion's older sister (and also Kooh and Zymes if they are later included)
Description:
Sweet but spunky, can be a bit sassy sometimes, especially when it comes to Zion. Loves to laugh and tease, but can be very understanding and empathetic. She likes to do many different things at random, and loves dressing up in different costumes.
Adores cute things, or anything she finds cute. She can be very serious and leader-like when she needs to be and takes charge if necessary. She takes care of injuries and healing duties on and off the field.
Usually a supportive type in battle, her magical attacks can be quite deadly.
Room Description:
Coming soon <<;;
_________________
"Be who you are and say what you feel, because those who mind don't matter and those who matter don't mind." ~ Dr. Seuss

Celica

Elder




Posts

: 628


Join date

: 2009-01-29


Age

: 33


Location

: Hawaii X3



Last edited by Tika_Keiga on Sat Aug 21, 2010 12:44 am; edited 1 time in total

Tika_Keiga

Mana Dragon





Posts

: 477


Join date

: 2009-01-29


Age

: 28


Location

: V-Town



Name: Lucxene
Occupation: In charge of the Obscence Game Clinic! This means video games r us!Also the largest area within the house. We shall run the Tea Party and Entertainment system in the Game Clinic!>_> Yes,must throw a pinch of a class in a room of gamers.
Weapon of choice: Lol...Well,now this is a secret for a big reason. I'll will be answering this once my second fanfic is in motion and it's revealed. Until then will just say Lucxene currently does not appear to have a weapon.XD
Family: >_> Okay let me see how this works here...Nephew=Zion Nieces=Celica and Kooh Sister=Liah Kao=Great Nephew?Others shall be added later if more join.
Description: Lucxene is pretty nice,friendly,reliable and has a good sense of reading people pretty well.However Lucxene is also complex with the idea that he can also be the opposite if push comes to shove example,unfriendly, rude, crude and can slam a person with a witty insult and walk off
Lucxene is more of a supporter or aiding role. He's not much for leadership,however he can handle some leadership tasks,but not a born leader. He's also quite passive rather then aggressive,but he does have his moments. Although he is passive and usually does not involve in actual combat,he at time can engage in battle if needed though it's not his strong suit.When things must be dealt with in a serious matter, he's the right person to listen and maintain a good respectable presentation by keeping business first if needed.
Last edited by Lucxene on Sun Aug 22, 2010 10:37 pm; edited 3 times in total

Lucxene

Elder




Posts

: 348


Join date

: 2009-03-28


Age

: 34


Location

: The U.S.A.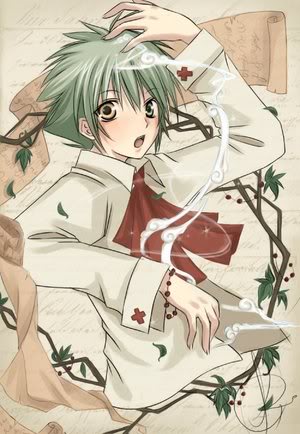 Name:
Kaoru (Kao)
Occupation:
student, junior member, and puppeteer ( always wanted to be one rofl XD)
Weapon of Choice:
Various marionettes ranging from combat to comedic purposes, and dun dun dun........ puppet string rofl XDD
Family:
Somewhere in the twist and turns of the family tree he is the son of Kooh ( and nu kooh i'm not your sonther/daughter D:<)
Description:
A very optimistic child that takes life as it goes by and rarely worries about the problems that arise. He's quite shy at first, but soon becomes a crazy child once he is comfortable with the person. Once he is comfortable with the person, he is loyal to the end. He is attracted to anything that is cute and anything that may taste sweet, which people sometimes use to bait him to do stuff. His oblivious nature is one of his downfalls since it's one of the main reason he gets into trouble. He doesn't like to get into fights, but when his life is on the line or someone that is important to him is in trouble, he doesn't have a second thought about fighting.
(took a while to draw that e.e)
Name:
Kooh (Kooh-bear,kooh kooh kachuu,pikakooh are also fine.)
Occupation
Student, Junior member, Zymes roommate and a junior nurse in the CD Infirmary.
Family:
Celica and Zymes younger sister. Kao's mother :3
Weapon of Choice:
A small puffer fish that can morph into anything she chooses. Mostly morphs into a large syringe or a cannon ball.
Description:
Kooh is a bright and bubbly young girl. She's optimistic at heart, but at times will doubt her strength and if shes making the right decisions. She's cheerful, always doing her best to make others smile. She's close with her best friend Kao, and has a very close relationship with her mother, Sandry.
Her dream is to be a nurse, she's gentle and she will fight if she has to, especially if her friends are in danger. Extreme lover of food <3.

Kooh

Branch Head - Cookie Dragons




Posts

: 71


Join date

: 2009-02-01


Age

: 23


Location

: NJ o.o




Similar topics
---
Permissions in this forum:
You
cannot
reply to topics in this forum